Katya Chilingiri with guest at Musicscapes installation (Bow, left and Bass String, right)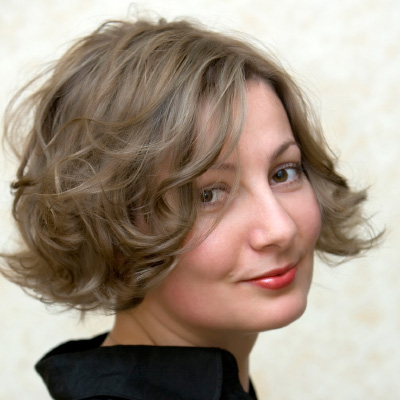 Katya Chilingiri is an artist who is fascinated by classical music, particularly the visual nature of the details within sounds and the objects which produce them.
Katya's work focuses on exacting visual compositions based on nuanced observations tempered by a warm and inviting sensibility. She has used wide-ranging technical approaches to image making to exploit the advantages of black & white film and digital photography. Because her work is often based on feeling (such as that inspired by music), Katya regards her photographs as most successful when they enrich and inspire viewers as well as challenging or delighting them.
Born in St. Petersburg, Russia, Katya Chilingiri came to the United States in 1996. Her work has been shown at: the Jane Voorhees Zimmerli Art Museum, New Brunswick, New Jersey; the Igor Stravinsky Museum, Ustilug, Ukraine; the Strathmore Mansion, Bethesda, Maryland; the Gross McCleaf Gallery in Philadelphia, Pennsylvania, the Southampton Cultural Center, Southampton, New York; the Decker Gallery, the Pinkard Gallery and the Fox 3 Gallery, Baltimore, Maryland; the Mattin Center at The Johns Hopkins University, Baltimore, Maryland; the Joseph Meyerhoff Symphony Hall, Baltimore, Maryland; the Saint Petersburg Symphony Hall, Saint Petersburg, Russia; the Baker Arts Center, Liberal, Kansas; the Attic Gallery, Boston, Massachusetts; the Holtzman Art Gallery, Baltimore, Maryland; the Visual Arts Center of New Jersey, Summit, New Jersey; The Robeson Gallery, State College, Pennsylvania and, The FotoWeekDC in Washington, DC.
Katya was the recipient of: Award of Merit at Images 2012, Twenty-Second Annual Fine Art and Craft exhibition sponsored by the Central Pennsylvania Festival of the Arts with the cooperation of The Pennsylvania State University; the FotoWeek DC Award of Excellence in 2008; and the 23rd International Juried Show Visual Arts Center of New Jersey Award of Excellence.
In 2003, she received her Bachelor of Arts degree in Studio Art from Towson University where she was the recipient of the 2003 Towson University Art Department Award. In 2007, Ms. Chilingiri was awarded her Master of Arts degree in Digital Arts Scholarship from Maryland Institute College of Art. Katya was awarded Master of Fine Arts degree in the Studio Art Program from Maryland Institute College of Art in 2011.
---
Contact information
Call 202-340-6202 or email Katya
Download CV – PDF 467 KB